You probably heard at least something about the record breaking three-day tennis match between the US John Isner and France's Nicolas Mahut, but you may not have heard about the interview with Isner where he clearly qualifies himself as a yogi–immersed in intention without concern for results.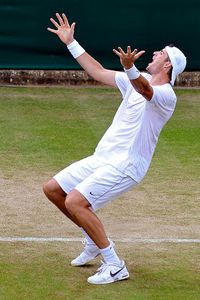 "Especially once the match got past, you know, 25-all, I wasn't really thinking," said Isner. "Hitting a serve and trying to hit a forehand winner is the only thing I was doing."
Many Wimbledon players, including Murray admit that yoga plays a huge part in maintaining there overall Wellbeing.
Yoga has been known to help athletic endeavors in a host of physical ways: it strengthens core muscles (which protected joints), it increases ability to use oxygen, and it keeps the body loose and open long training sessions.
But the most significant benefits from yoga were mental. Yoga taught me how to approach a challenge with equanimity, how to breathe through discomfort, and how to stay centered even when things got rough.