New York went yoga crazy for a second day running as thousands of practitioners gathered on Central Park's Great Lawn.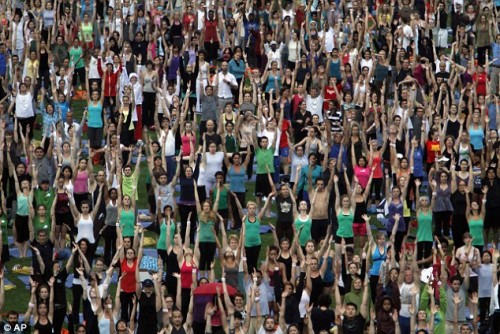 Under the guidance of acclaimed yogi Elena Brower, the masses assembled for a calming session under the open skies.
Jennifer Lobo, from organisers Times Square Alliance, said it was an amazing sight as peace descended on one of the busiest places on the planet.
She said: 'If you could create tranquility in the most crazy, high energy place in the world that is a really great oxymoron, or a great opposite.
'New York City is known for being a city that never sleeps. With all the city noise other imaginable source of noise, it is often hard to find a quiet corner anywhere outdoors.
'New York yogis are some of the best in the world because they can bring that eternal peace to their practice and disregard anything going on outside, noise or whatever it is.' commented Jennifer.
It's great to see that Yoga outdoors is spreading across the globe. Yoga Wellbeing Yoga in the Park classes are only going to keep on growing. If you would like to know more about Yoga in the Park classes then just click here.