Yoga for kids is on the increase. Most you would probably have heard about the Dragon's Den experience with the Yoga Bugs team, for those of you who haven't the team turned down £200,000 of invest. Fenella Lindsell is founder and director of Yoga Bugs, which brings yoga into schools, working with children up to the age of 13 – currently about 40,000 of them a week. Lindsell believes that the growing interest is down to teachers and parents looking for ways to help their children handle the constant stimuli of our technology-driven culture. Today's children are dealing with so many issues including obesity. Yoga is truly holistic. Children get physical, emotional and mental benefits from it. Sporty ones can improve their performance. Not-so-sporty children can find a flexibility they didn't know they had.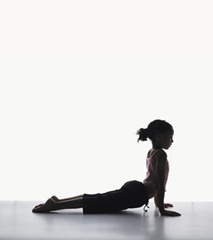 The yoga-for-kids trend is "massive" – perhaps because London is packed with yoga mum's whose pressurised, overscheduled kids badly need calming down. The characters on BBC children's programme Waybuloo now practise "yogo" and yoga teachers are setting up classes in schools across the country.
Yoga teachers are also working with children with special needs. Jo Manuel runs London-based Special Yoga. She sees children with anything from emotional problems to autism, ADHD and cerebral palsy. She prefers not to use imaginative games and focuses solely on the body. Children, she says, find yoga fascinating without all the animal noises.
.