When it came to the fitness benefits yoga can or can't provide, yoga teacher John Schumacher had heard it all. A student of B. K. S. Iyengar for 20 years, Schumacher was convinced yoga provides a complete fitness regime. But many people, even some of his own students, disagreed. Yoga might be good for flexibility or relaxation, they'd say, but to be truly fit, you had to combine it with an activity like running or weight lifting.
Schumacher just didn't buy it.
He knew three decades of yoga practice—and only yoga practice—had kept him fit. He didn't need to power walk. He didn't need to lift weights. His fitness formula consisted of daily asanas (poses) and pranayama (breathwork). That's all he needed.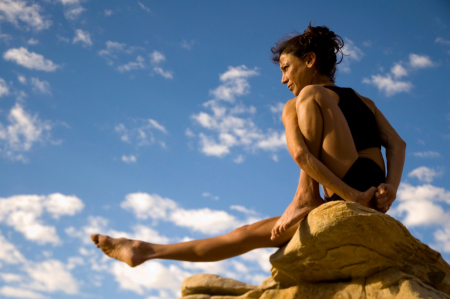 Four years ago at age 52, Schumacher decided to prove his point. He signed up for physiological testing at a lab in Gaithersburg, Maryland. As he expected, Schumacher tested near the top of his age group for a variety of fitness tests, including maximum heart and exercise recovery rates. His doctor told him that he was in excellent physical condition and estimated that Schumacher had less than a one percent chance of suffering a cardiac event. "I've always maintained that yoga provides more than adequate cardiovascular benefits," says Schumacher. "Now I have the evidence that regular yoga practice at a certain level of intensity will provide you with what you need."
Evidence of yoga's ability to bolster fitness, however, goes well beyond Schumacher's personal experience. Yoga Journal's testing of three yogis also yielded impressive results. Even physiologists who don't do yoga now agree that the practice provides benefits well beyond flexibility and relaxation. Recent research—though preliminary—shows that yoga may also improve strength, aerobic capacity, and lung function. If you practice yoga, you already knew that. But if, like Schumacher, you've been told by friends, family, doctors, or even other yoga students that you need to add some power walking for your heart or strength training for your muscles, here's evidence that yoga is all you need for a fit mind and body.
What Is Fitness?
Before you can prove yoga keeps you fit, you must first define what "fitness" actually means. This isn't a simple task. Ask eight different physiologists, and you'll hear eight different definitions, says Dave Costill, Ph.D., one of the first U. S. researchers to rigorously test the health and fitness benefits of exercise.
Now professor emeritus of exercise science at Ball State University in Muncie, Indiana, Costill defines fitness simply as the ability to live your life without feeling fatigued. "For normal daily living you don't need the strength of a football player or the endurance of a marathon runner, but you've got to be able to perform your normal activities and still have a reserve," says Costill. The American College of Sports Medicine (ACSM), the largest exercise science association in the world, defines fitness as both related to your ability to maintain physical activity and related to your health (for example, people who become more fit reduce their risk for heart disease). According to ACSM, four types of fitness help to bolster health. Cardiovascular fitness, flexibility,muscular fitness and body composition.