When I was asked to try out the new SB eco yoga mat I wondered if it was going to be as good as my beloved Agoy yoga mat. This mat has been like a best friend to me throughout the years, so it's a strong bond. Also, I love the fact that whenever I get on my mat I know that it's environmentally friendly.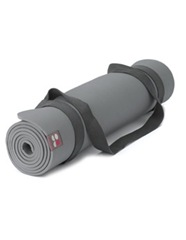 This morning I did a couple of Sun Salutations on the eco mat and what an amazing mat it is. Firstly just like the Agoy mat it's environmentally friendly (the title gives it away) It features a deeper embossed texture design to reduce slipping, this really helps out when your mid down dog. However one of the main things I loved about the mat is that it's really strong and durable. Being made from 2 layers of TPE & reinforced with an inner mesh layer in between the layers, you definitely don't feel like your going to stretch or wear it out after a couple of months. I also loved the fact that I could use the yoga carry strap as a strap for my practice.
If you're interested in the Eco Yoga Mat or anything else from the SB brilliant new yoga range then just pop along to one of your nearest SB shop. Furthermore if you say you're a Yoga Wellbeing follower then you get a healthy discount. Good karma all round.