Unwinding with some rejuvenating supported postures for an hour and a half sounds perfect. But moments after you close your eyes and immerse yourself in the first pose. The pose feels as though it's going on forever, and although your body isn't moving, your mind won't stop racing. You feel restless, agitated, and out of control. This is supposed to be "restorative" yoga. What happened?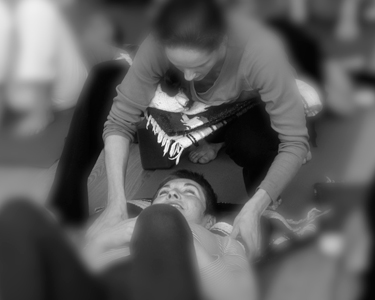 Restorative yoga is a passive practice
Poses like Reclining Bound Angle Pose or Legs-up-the-Wall Pose are held for several minutes at a time, propped with blankets, blocks, and bolsters to minimize the amount of work that the muscles are doing in the pose. A restorative practice can rest your body, stretch your muscles, lower your heart rate and blood pressure, and calm your nervous system, moving you into a peaceful state of deep relaxation. But while the practice of restorative yoga comes easily to some people, it can present real challenges for others.
The practice of being still and restful provokes anxiety for many people. And during times of extreme stress, such as illness, a difficult transition, or grief, releasing control of the body can overwhelm the nervous system. Passive postures can evoke feelings of discomfort for myriad reasons. On a physical level, Pransky says, the body is in a vulnerable state: You are releasing control of all your muscles, lying with your eyes closed and your chest and abdomen—the location of your vital organs—exposed. In many restorative poses, the body is also splayed out, and often the bones are not resting in their sockets, which can leave you feeling physically unstable or insecure.
On an emotional level, restorative poses can be challenging because, when the body is in a passive posture, the mind has fewer physical tasks and sensations to focus on than it does in more active poses, making your attention more likely to turn inward. Any emotions you might have been suppressing throughout the day—fear, frustration, sadness, anxiety—are likely to come to the forefront of your mind once your body begins to relax.
Finally, if you go very deep into the meditation of the pose, says Pransky, you can lose a sense of your physical shape. If you are in a content and secure frame of mind, this can deepen your experience and provide a sense of bliss.
Is restorative yoga for you?
But just because restorative yoga can trigger anxious or uncomfortable feelings doesn't mean you shouldn't do it. In fact, times of high anxiety or stress are the times you can most benefit from the healing aspects of a restorative practice. The solution is to support passive postures with props in such a way that the body and mind feel grounded, safe, and integrated. That way, you can still experience the benefits of restorative yoga, and can eventually learn to use the practice as a tool for being with all those feelings.