Simply superlative – this is Bolivia. It's the hemisphere's highest, most isolated and most rugged nation. It's among the earth's coldest, warmest, windiest and steamiest spots. It boasts among the driest, saltiest and swampiest natural landscapes in the world. Although the poorest country in South America (and boy do Bolivians get tired of hearing that), it's also one of the richest in terms of natural resources. It's also South America's most indigenous country, with over 60% of the population claiming indigenous heritage, including Aymará, Quechua, Guaraní and over 30 other ethnic groups. Bolivia has it all.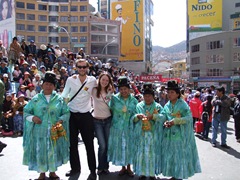 This landlocked country boasts the soaring peaks of the Cordillera Real and the hallucinogenic salt flats of Uyuni, the steamy jungles of the Amazon Basin and wildlife-rich grasslands of the Southeast. Unparalleled beauty is also reflected in its vibrant indigenous cultures, colonial cities such as Sucre and Potosi, and whispers of ancient civilizations. Bolivia is now well and truly on travellers' radars; there are even opportunities to teach yoga out there, to find out more click.
Bolivia's social and political fronts have been in flux since the appointment of the country's first indigenous president. Optimism is generally high, especially among the indigenous majority, although many changes are afoot. Protests, marches and demonstrations are a part of the country's landscape. This is a truly extraordinary place.
                                                                                                                                                                                                                                        Laura and Paul with a group of Cholitas