Anthony Paul Moo-Young, known as Mooji, is a direct disciple of Sri Harilal Poonja, the renowned advaita master. In 1987, a chance meeting with a Christian mystic was to be a life-changing encounter for Mooji.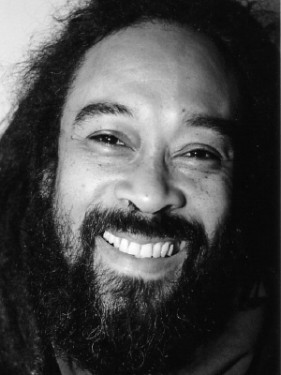 In late 1993, Mooji travelled to India. He had a desire to visit Dakshineswar in Calcutta where Sri Ramakrishna, the great Bengali Saint, had lived and taught. The words and life of Ramakrishna were a source of inspiration and encouragement to Mooji in the early years of his spiritual development. While in Rishikesh, a holy place at the foothills of the Himalayas, he was to have another chance encounter; this time with three devotees of the great advaita Master Sri Harilal Poonja, known to his many devotees as Papaji.
Mooji has been sharing satsang in the form of spontaneous encounters, retreats, satsang intensives and one-to-one meetings with the many seekers who visit him, from all parts of the world. Few amongst the modern teachers of the advaita tradition expound the 'knowledge of Self', and the method of self-enquiry, with such dazzling clarity, love and authority. There is an energy that radiates from Mooji's presence, a kind of impersonal intimacy, full of love, joy and a curious mix of playfulness and authority. His style is direct, clear, compassionate and often humorous.
Currently Mooji shares satsang in Brixton, London, where he lives. He also travels regularly to Ireland, Spain, Italy, Germany, Brasil, North America and India where he conducts satsang meetings, intensives and retreats.Yoga Wellbeing is really excited to go along to his next meeting and learn more from the Brixton guru.