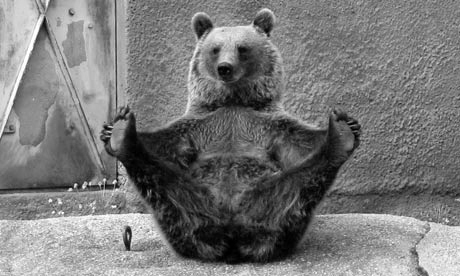 Santra the bear practises her yoga stretching routine at Ahtari zoo in Finland.
Not all members of the ursine community waste their time persecuting park rangers, corrupting their diminutive sidekicks and gorging themselves on stolen picnic baskets. As these remarkable pictures demonstrate, Santra has a more yogic approach to life.
The photos capture the female bear performing a 15-minute stretching routine were shot by a Slovenian tourist on a visit to Finland.
"She held her legs with her hands for a minute or two in a V position and then put them down and relaxed," said Meta Penca, a 29-year-old web programmer.
"Then she put up her left leg and put it straight with her hands and held it with her left hand for a bit. Then she lifted the other leg, straightened it and held it with her right hand for around two minutes and then had a little rest and then all over again.
"It was exactly the same as when you see people do yoga; easy, slow, focused and calm. She looked pretty into it, a really straight face, no looking around just very serious and calm and kept her eyes slightly opened and focused."
Paul Harvey, a Bristol-based yoga teacher and trainer, said Santra was indeed practising the ancient Indian discipline.
"She looks like quite a lonely bear," he said. "Perhaps she's doing yoga to keep herself sane."
Harvey, who has taught yoga for 35 years, identified a number of posture variations in Penca's pictures.
"The first is spread legs, holding big toes or feet – and she's doing a pretty good job with claws," he said.
"The second is the same posture, with chanting. The third is a one leg variation, the fourth a variation with the other leg. The fifth is a seated head-to-foot posture. Six is a single raised leg stretch and seven is a seated, spread-legs forward bend."
The bear's flexibility and balance, he added, marked her out as something of an expert: "These are not beginners' postures. Yogi bear is definitely an advanced practitioner."