Exercise is always more fun when it's done outdoors: there's no comparison between slogging away on a gym treadmill "running to nowhere", and going for a jog on a fine summer day in your local park.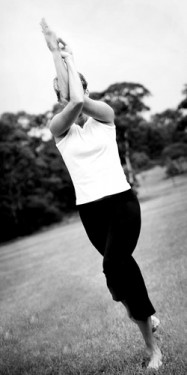 Yoga Wellbeing Park  classes are about people getting outside regardless of the weather. YogaWellbeing is open to all men and women. Through my experience yoga can be perceived as a woman's thing, but that couldn't be further from the truth. It's fantastic for overall fitness. Most professional sports people, men and women, are incorporating yoga into their routines.
Our classess are set up in a quiet, shaded corner in the park, and we spend 60 minutes going through various stretches and positions. Some of the moves are more challenging than others, but each person is instructed to take it at their own pace, relaxing a bit when they need to.
It's all about getting outdoors and having some fun. A lot of yoga classes can be serious and the Yoga Wellbeing Yoga in the Park classes are about getting outside and enjoying yourself.
There are a myriad of other benefits that seem especially attractive in these stressful times. Yoga is about enjoying the moment and appreciating the now. It helps you to be present, and to forget about everything else, if only for five minutes, or even two minutes, within the class. People always feel better afterwards, they have better posture, and are more relaxed.
Get started
Yoga Wellbeing classes are open to all regardless of their age, experience, or personal level of fitness.
We have had super fit guys coming to our classes,  the ones who find it a challenge are the guys who are really muscle-bound, because it makes them more inflexible. A person who mightn't be that fit will be a bit more flexible because their muscles haven't tightened up. But they'll be challenged too because there are strengthening postures as well as ones for flexibility. So regardless of how fit you are you'll get something out of it.