Those are the calming whispers of Miss Carr, teacher at Quarry Brae Primary and newly trained yoga instructor, who has a class of 10 and 11-year-olds huddled in front of her with their legs crossed, eyes closed and thumbs and index fingers forming the yoga Mudra.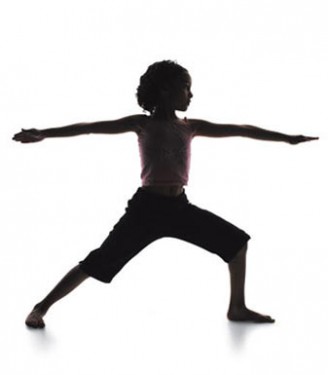 The lights are dimmed, a lavender candle is burning nearby and, with a Glaswegian twang, the children chant "Ommmm".
It is not what you might expect from a classroom in Glasgow's east end.
Quarry Brae is in Parkhead, a stone's throw from Celtic football ground, and by the head teacher Sara Adam's own admission is a deprived area that is finally getting much-needed investment.
In October 2009 the area of Parkhead West and Barrowfield was identified by the Scottish government as the most deprived in Scotland.
Things are on the up though, and rusty swings and litter-strewn parks sit next to new housing developments.
For Quarry Brae Primary teacher Ms Carr and head teacher Mrs Adam, yoga is bringing a calming influence to the children and helping to get them in a mood to learn.
"Perhaps they haven't got that support for education at home," explained Mrs Adam.
"They may not be coming out to school ready and settled, which contributes to children    learning.
"Yoga combats those issues because lots of children need movement and breaks in the day when they can get their self-discipline back."
Peace island
Yoga being incorporated into the classroom, with breathing exercises sitting between math and English lessons, is the dream of Scottish Indian couple Sam and Sunita Poddar.
They moved to Glasgow in the 1970s and, after making their fortune in care homes, last year bought an island in Ayrshire called Wee Cumbrae (now Peace Island), which they are busy turning into a yoga retreat.
I used to have a quick temper and yoga has calmed that

Quarry Brae Primary school child Brandon
The project to bring yoga to schools is a collaboration between the Poddars' charity – Patanjali Yog Peeth UK Trust – and Glasgow City Council, with 15 schools in the city involved so far.
The scheme involves Mr Poddar giving a taster lesson to pupils and then inviting teachers to free training so they can deliver the yoga classes without him.
Ms Carr is one of the first to complete her training and says it is helping both her and her pupils.
"We have a laugh and we have good fun with it," she explained. "It's really improved my relationship with the children, their concentration levels and their attitude to one another.
Yoga hits those hotspots because lots of children need movement and breaks in the day when they can get their self discipline back

Quarry Brae Primary head teacher Sara Adam
"Teaching can be quite stressful and the yoga class is a nice time for me and the children to connect."
Brandon, 11, is quick to back her up and just as quick to try and give yoga tips.
"I got hit in the face with a ball," he explained. "Usually, I'd go up and start a fight with whoever did it but I don't any more. I used to have a quick temper and yoga has calmed that down."