How can you resist the charm of Brixton? One of the things I love about Brixton is the fact that it has the Brixton Recreation Centre slapped bang in the middle of it. It boasts, among others activities; swimming, a gym, sports halls, solarium, sauna, climbing wall, indoor cricket nets and social club. This centre acts as an oasis for anyone who needs a break from the bustle of Brixton. There are plenty of sports clubs and activities to take part in.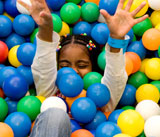 There is also great things ahead for Brixton Recreation Centre, as the council is set to invest almost £3million. The new look Brixton Recreation Centre is the result of a partnership between not-for-profit leisure centre operator GLL and Lambeth Council, which has seen the centre benefit from a major £2.85 million revamp, and the open day represents the completion of all refurbishments to the centre with new and innovative schemes to benefit all members of the community.
This includes the UK's largest dedicated junior fitness and sports area is now fully operational. Known as 'The Zone' the 864m2 state-of-the-art facility is open to children aged between five and 15 years with the capacity to provide activities for up to 200 young people at any one time. The Energy Zone and Fitness Zone bring interactive games to life in this innovative environment.
Amazing news for the locals. To find out more click here.