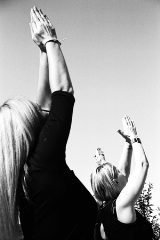 Yoga, meditation, training in communication skills, and other proven stress management techniques can play an important part in any Occupational Health and Safety Programme, especially for companies setting themselves up as government-approved healthy workplaces.
The benefits of a healthy, stress-managing workforce are proven. Taken alongside employee demands for a more balanced lifestyle, training in stress management and Yoga could help you meet your company's real health promoting workplace needs.
Employees and employers alike are realizing the ease of yoga and its benefits. No leg behind the head poses here, just energy enhancing and stress relieving ones, combined with simple breathing techniques.
Why Yoga?
Because a healthier workforce means a happier, brighter workforce.
Training is available in various forms of Yoga from gentle stretching to strong Vinyasa flow as well as in calming breathing, effective communication, meditation and relaxation techniques.
Even more reasons for you to get your workforce into yoga
· Helps with team building
· Employees learn stress management
· Increased productivity
· Improved enjoyment
· Employees improve awareness, focus and control
· Mental clarity improves
YogaWellbeing has taught in a number of different corporate environments and is able to provide a variety of teaching arrangements
At work sessions
Designed to meet the needs of the company and employees and usually offered before work, during lunch or straight after work. Classes can be fully paid for by the company, subsidised by the company or the company can choose to just provide the space free of charge and then ask employees to pay on an individual basis (subject to a minimum hourly rate being achieved).
One off or time limited sessions
A single session or a number of sessions for company conferences, ergonomic and desk exercise training, away days or team building events can be arranged. With a background in organisational Psychology, Kim specialises in designing workshops to meet all needs from those that follow the more traditional yoga class format to those which focus on relieving workplace tension, improve concentration and relaxation and that help to avoid common workplace ailments such as backache, shoulder ache and RSI.
YogaWellbeing can design and deliver sessions to meet the individual needs of your company and can range from 15 minutes – 3 hours.
For a list of company references and recommendations please contact Laura at YogaWellbeing.