What have you gained in Brockwell Park?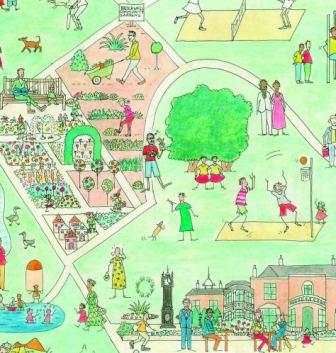 Can we really afford to lose any of the large green spaces in the city? There are so many green spaces in London, perhaps more parks than any capital in the world; but every day, gradually and by minute fractions, the process of building over small open spaces. Therefore, the County Council need to try and take care of our green spaces.
Brockwell Lido, can be found in the corner of Brockwell Park. It's been at the part of the local community since 1937. The Art Deco Grade II listed building has been extended and transformed. The Lido is managed in partnership with Fusion. As a registered charity, Fusion Lifestyle are continually reinvesting to improve and develop what's on offer in the local community. The update on the pool is that the ice has broken from the surface of the open air pool for the annual winter swim at the Lido on Saturday 19th December 2009. Vast numbers of people attended to see swimmers aged 8 to 80 making their way through the ice. So when you visit the Lido, you'll be helping to keep one of London's few remaining open-air pools open for future generations. Click here to learn more about the lido.
Today there is an active Friends of Brockwell Park made up of local users.  They are working in partnership with Lambeth Council  to protect and enhance this much loved and valued greenspace. Click here to find out a wee bit more.