Our Visit to Ekies All Senses Resort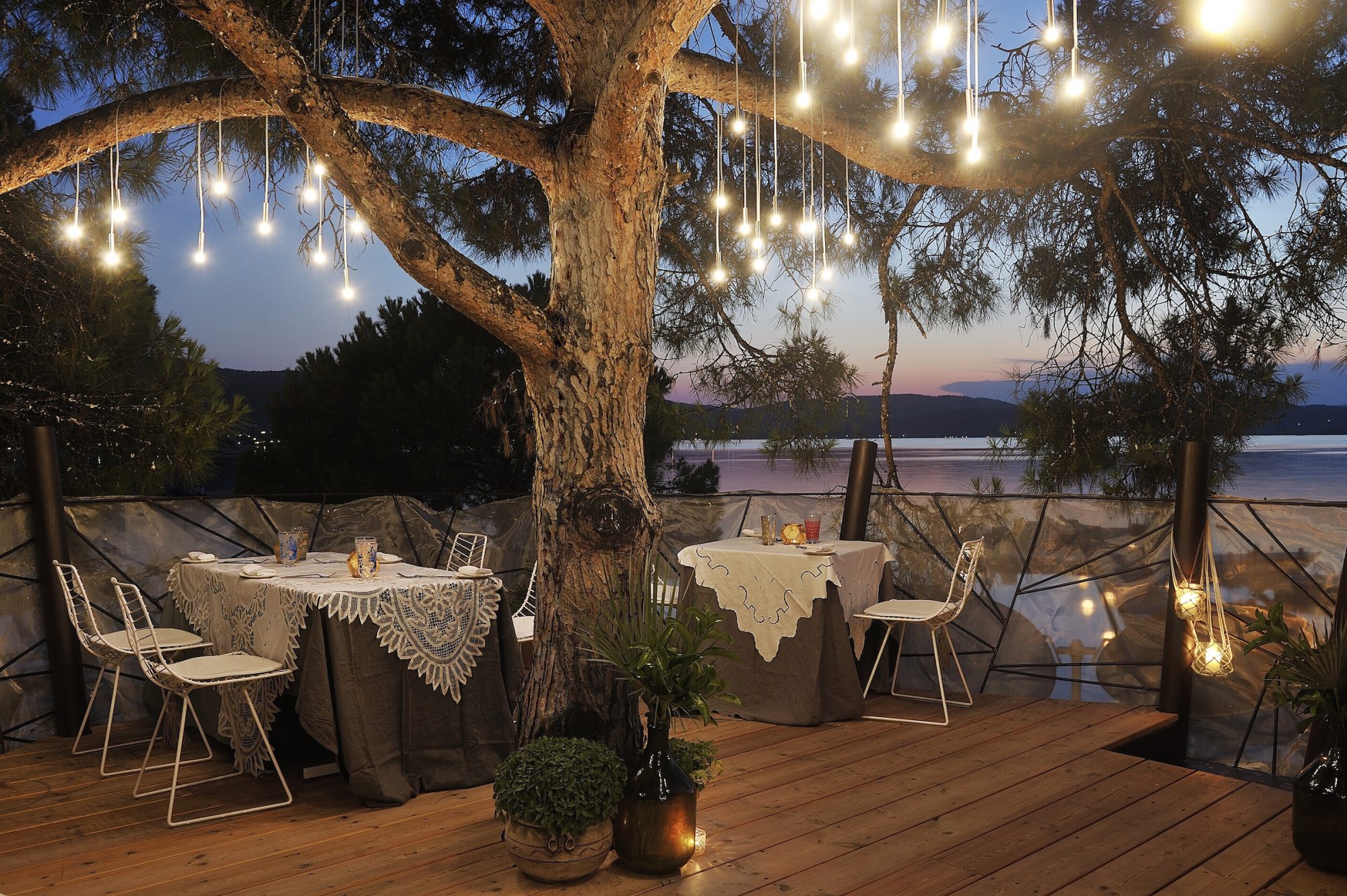 Set in a protected ecological area, you can be sure the view and landscape are stunning
The private beach is a few steps from the door to your room
Good quality healthy food served throughout the day
Large, stylish bedrooms
Really comfortable, locally made cocomat beds
Exciting speedboat trips to the magical blue lagoon
Fantastic restaurants and bars near to the hotel
The Hotel's Design & Location
An eco spa with a difference – a private white sand beach, blue skies, dazzling sun that shines onto the clear blue Aegean (nicknamed by locals as the 'Blue Lagoon') This is Ekies All Senses Resort. The Halkidiki resort is nestled in a region in northern Greece known for its pristine peninsulas, which feature Mediterranean forests that give way to sandy beaches in sheltered bays.
The design is natural eco with a twist. The design team has used plenty of local natural materials mixed in with modern features such as quirky recycled bedside lamps, geometric tiling and a feature wall's featuring local Greek history.
The beauty about this place is it sets the right atmosphere to do as little or as much as you like – this family run luxury resort really does cater for everything. You can hang out in the wet bar that stretches out into the turquoise sea, hire your own private speedboat to visit a local desert island or just relax by the pool with the kids.
Our Room
Our room was filled with bright Mediterranean local textiles and locally made wooden furniture. Artisan greek sculptures and locally sourced organic toiletries set the luxury eco standard. The facilities included, flat Screen TV, minibar, CD/DVD player, tea and coffee-making facilities, air conditioning, hair dryer, all-natural Coco-Mat mattresses and down-filled pillows, Apivita toiletries, bathrobes and flip-flops.
Treatments
The wellness centre offers superb shiatsu massage, couple massage and reflexology. I felt like experimenting and tried the herbal pouch massage which has roots in Indonesia. Hot herbal compress is a special method of massage treatment, the pouches are used to address chronic problems, such as back pain. The massage had a wonderful effect of leaving me feeling both revitalised and relaxed.
Food and drink
The main restaurant, Bubo, serves a menu of Greek classics using excellent local produce. You can order seriously fresh seafood accompanied by a crisp bottle of white. The modern restaurant lets the view speak for itself, with floor to ceiling glass there is nothing to stop you from enjoying the endless sea.
The sister restaurant, Kuko, is in the same area and has a more relaxed diner-style menu. The menu is available for those on half board and breakfasts.
Our recommendation would be to book the Treehouse, a gourmet restaurant featuring brightly coloured textiles and wooden eco furniture has limited seating of up to 10 people. This magical setting offers Greek food with a modern twist (our favourite was the homemade ravoli with local manouri cheese)
Hotel bar
The Loligo beach bar is perfectly located in front of the sea and gets you swinging to the sounds of live jazz every Saturday in the Summer. The beach bar offers any drinks from sunrise to sunset – wonderful fresh juices, excellent coffee and snacks to keep you going throughout the day. You can set up at the bar and watch the world go by with a margarita or enjoy sunset from one of the hammocks that swing over the water. Our recommendation is to take some time out in the 'wet bar' area – a row of bar stools set into the sand stretching out to the water – feel yourself slowly relax into the Greek way of life.
Room service
Dishes from the restaurant menus can be brought to your room (or any other spot within the resort that takes your fancy) between midday and 11.30pm. There's a 20 per cent mark-up on prices if you order to eat in your room or on your balcony.
Family-friendly restaurant
The hotel has plastic cutlery, highchairs and beakers to borrow. There's no separate kids' menu but the main restaurant menus list dishes like battered fish, perfect for little appetites, and the kitchen can adapt dishes. You can order food for the kids throughout day and friendly staff will heat up baby bottles and food.
Pool
The crisp outdoor pool is all painted white concrete and comfortable white loungers. There's a separate Jacuzzi and a small raised pool. The poolside bar, serves fresh orange juice and midday nibbles.
Connected to the main pool is a separate raised pool, perfect for toddlers (the deep end of the main pool is 1.3m). The pool is manned by a lifeguard from June to September.
Activities
On rare rainy days there's a pool table in reception. Next to reception there is a library filled with books (for all ages) and plenty of games and toys to keep the kids entertained. There is a large communal area which is perfect for relaxing and catching up on some holiday reading.
You can enrol in six-day adventure clubs in watersports or creative pursuits. Kids can take to the ocean waves in small groups of four or five to try kayaking, supping (stand-up paddle boarding) and sailing with the supervision of qualified instructors . For the creatives they are introduction to theatre, art and painting sessions and children's yoga. Kids clubs run for an hour in the morning and an hour in the afternoon. The activities run for six days, there is the option of adding evening sessions from a couple of hours in the evening so you can enjoy a relaxed dinner under the stars.
We ventures on the water at the local Vourvourou Bay, for a morning's snorkeling session. You can also book surfing, jetskiing or windsurfing. You can get even more adventurous and book a day in advance and staff will pack you a picnic hamper (€5 a person; booze is extra) to keep you going on your very own adventure. You can island hop of Diaporos and Agios Isidoros (20 minutes on a boat from Vourvourou; hire your own from Circuit Rent). Diaporos' eastern side, Mirsini Beach, affectionately known as Hawaii Beach, is on one of the most jaw dropping beaches in the area.
Special features
Paul and I visited Ekies as part of our honeymoon, as part of the package offered by Ekies, they took us out in the hotel's speedboat to the nearby and locally famous Blue Lagoon for a picnic.  In photos the water looks similar to the Calanques in the Cote d'Azur, but in real life, the water is far clearer.  We didn't actually see too many fish down there when snorkelling though, its mostly sandy with little cover for smaller marine life.
We also went out with a group of other travellers for lunch on the hotels small fishing boat, Romanians, Germans and Dutch we were a right motley crew.  The meal was lip-smacking, prepare by our very own Spartan Captain, who worked with his Albanian wife onboard.
Final Thoughts
This is a resort made for grown-up, crowd-free sun-seeking. But it's perfect for little ones, too: it's sheltered, equipped with loungers and parasols, the waters are safe and shallow and you can walk for metres before it gets deep. There are no difficult stairs to navigate with buggies, plus there are three jaunty blue-and-white striped beach huts for changing them out of their sandy stuff in privacy and comfort (without covering them in more sand). Just 300 metres away is Karidi beach, one of Halkidiki's most beautiful, but if little ones tire of sandcastles, there's a playground with swings and a little wooden playhouse, plus outdoor table tennis for older kids (it's uncovered, so slap on the sunscreen) .
A Sleek Mediterranean Design Hotel
Located 45 minutes away from Greece's second city Thessaloniki, Ekies All Senses Resort is luxurious, eco friendly and easily accessible design hotel. Ekies was conceived by Alexandra Efstathiadou, and designed from the word go to blend in with it's natural surroundings while showcasing contemporary Greece through design, fabrics, and colours. Featuring a private beach, a traditional yacht and speedboat (which can be chartered with crew) and an onsite spa offering a huge menu of treatments, prepare to relax, greek style!
PROS
Set in a protected ecological area, you can be sure the view and landscape are stunning
The private beach is a few steps from the door to your room
Good quality healthy food served throughout the day
Large, stylish bedrooms
Really comfortable, locally made cocomat beds
Exciting speedboat trips to the magical blue lagoon
Fantastic restaurants and bars near to the hotel
CONS
A large amount of families can mean the quiet areas get overrun with kids
Many visitors seem to struggle to leave their tablets and phones at home, don't expect a retreat vibe
Plumbing was a bit smelly before we got our room changed
The menu needs more vegetarian and vegan options
Service perhaps a bit too casual, but its goes with the setting
Rooms would benefit from tea making facilities