Just wait till you get to Argentina. Arriving in Buenos Aires is like jumping aboard a moving train. Outside the taxi window, a blurred mosaic of apartment blocks and haphazard architecture whizzes by as you shoot along the freeway toward the centre of town. Then the real city appears, the cafés, the purple jacaranda flowers draped over the sidewalks, stylish porteños (residents of BA) walking purposefully past the newspaper stands.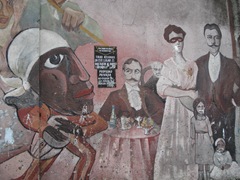 Wall mural in Buenos Aires
Get people free-associating on the word 'Argentina,' and it's quickly apparent why the country has long held travelers in awe: tango, Patagonia, beef, soccer, Tierra del Fuego, passion, Mendoza wine country.
The crackling advance of the Perito Moreno Glacier in the south, Argentina's natural attractions was a place that you will never forget. It's the most amazing experience when you hear the first crash of a part of the ice falling into the water.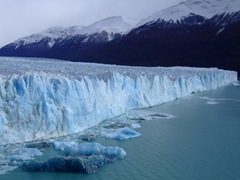 The view from our boat
The country beholds some of the Andes' highest peaks. It's home to massive ice fields in Patagonia, a vast, sweltering, thorn-riddled wilderness known as the Impenetrable, glacial lakes, deserts, Andean salt flats, a spectacular Lake District and more.
Travellers will also experience a country at a crossroads – an Argentina emerging from its worst economic crisis ever with a renewed, forward-looking sense of self. Cristina Kirchner, the country's first elected female president, took office in 2007, following in the footsteps of her husband, Nestor Kirchner, who enjoyed higher approval ratings than any other president in recent years. There's a palpable optimism in the air.
Travelers who dig beneath the tourist-office version of Argentina will find a beauty like no other. Argentina is in being reinvented. More than ever, Argentines have a lot to argue about. Spend any amount of time here, and you'll find yourself wrapped up in the discussion too, hopefully with a couple of locals. It's important to remember when travelling always take some time to out to sit, chat to the locals and have a hot cup of tea (mate in Argentina.)
Until next week,
Namastex